Viktoriia Stepanova had to flee the war in her homeland Ukraine. Now she lives in a refugee shelter in Zenderen, where they raised money with a benefit concert, so she could start her studies at Saxion. Thanks to the community, she is now studying IHRM. The help she received there, the talented pianist wants to give back through her music. "I get happy when I can help people with my music"
Her great desire was to study psychology in Kiev, but the war put a stop to that. So the 17-year-old Ukrainian Viktoriia Stepanova came to the Netherlands with her mother and little brother from Zaporizhzhia. Her father stayed in Ukraine in the army. At first they fled to Poland. Soon she found that they were out of place there. "Poland welcomed us well, but I didn't see a future for myself there. Also, living conditions were not good because it was overpopulated," she says with a heavy accent, because before she left her country, she had never had a conversation in English.
From Poland, the Stepanova family moved on to the Netherlands. They ended up in refugee shelter De Zwanenhof in Zenderen. In the Netherlands, Viktoriia saw an opportunity at Saxion to continue her studies. Only tuition fees were a problem for the refugee family.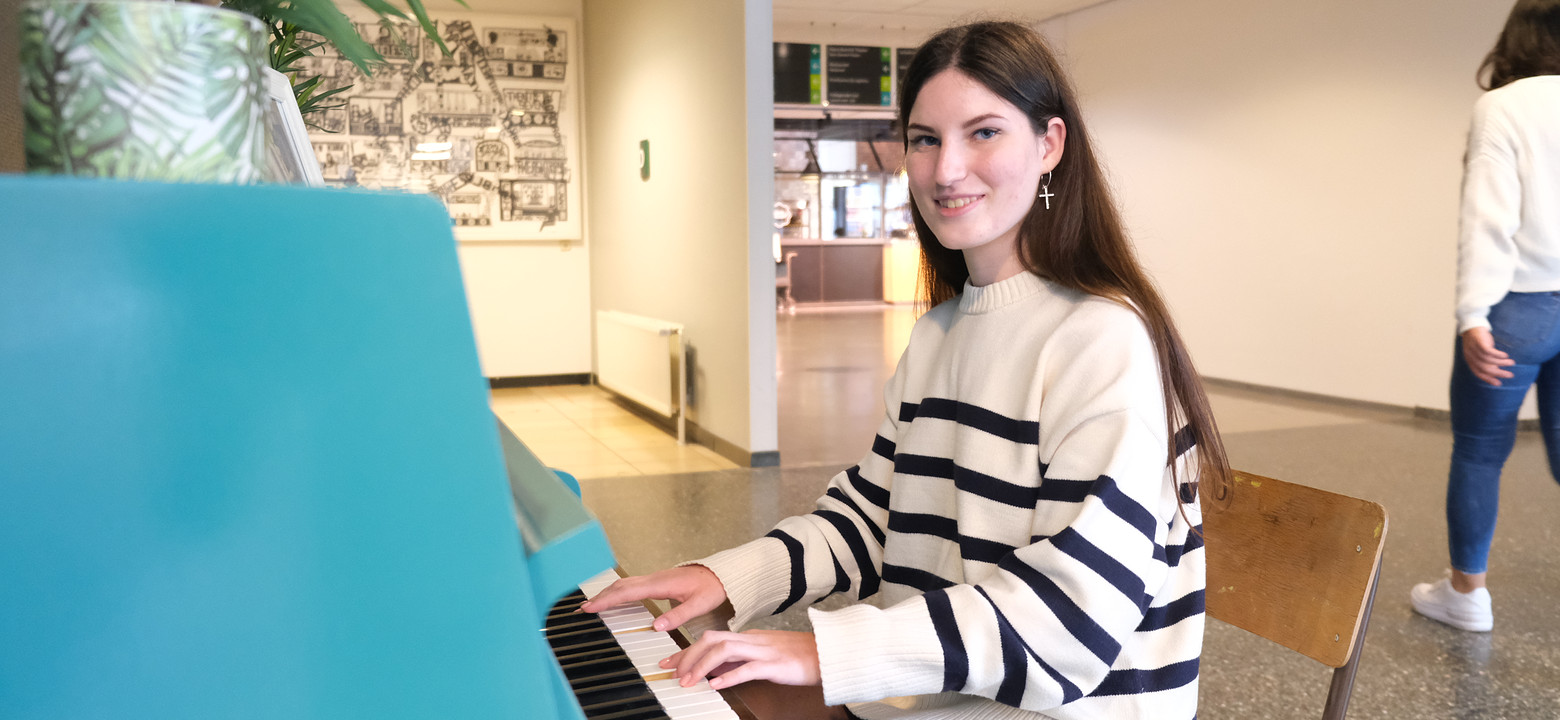 Candlelight concert
Fortunately, in De Zwanenhof she met fellow Ukrainian Natalia, who ran into the same problem. Natalia's sister, Maria Bolduieva, conducts the choir of Ukrainian women and children in the refugee shelter. She came up with the idea of organizing a benefit concert to raise tuition for the women.
It ended up being a candlelight concert at De Zwanenhof, which took place in late August, and raised over 4,500 euros. Enough for both women to start their studies. That means that for Viktoriia, these are her first weeks on the International Human Resource Management course, and she loves it here. Viktoriia: "I am so happy to be here, fellow students and teachers are very welcoming."
Going back to Ukraine will only be when she wants to visit family and friends, she says. "To be honest, I very much want to stay in the Netherlands, I see my future here. In Ukraine I have nothing left to do."
Viktoriia hopes to move into an apartment with her mother and little brother soon. "I really like it at De Zwanenhof, but it can be very busy living with so many people," she says. She would also like to travel and learn more languages. "The places I would most like to visit are Canada, England and New York. I want to explore all the different cultures."
Let me weep
In Ukraine, she graduated from a music school. In the hall of Saxion, she takes a somewhat uncomfortable position behind the piano. As she plays "Lascia ch'io pianga" (English: "Let me weep"), she brightens up.
She hasn't played much piano in the Netherlands and is still looking for a piano teacher, she says. She hopes to raise even more money by playing piano: "Maybe in the future I can play a at a benefit concert more often, I would like to help people, and the best thing is if that can be done with my music."